Just Made offers nutrient dense, tropical juices that are loaded with functional ingredients. Our cold-pressed juices will bring life to any category and provide your customers with something new and exciting! Trade up to higher retails and improve category margins with Just Made.
about us
Just Made was founded on the idea to introduce the Secrets of the Tropics to North American consumers. Having lived and worked for many years in South America, Just Made's founders, Walter and Norka Nimocks, were amazed at the remarkable variety and nutritional benefits of tropical juices.
Just Made's juice recipes are based on popular juice blends from Latin America and the Caribbean and were then further developed at Texas A&M Department of Nutrition and Food Science. Every blend is designed with consumers' health in mind. As such we blend nutrient-dense tropical fruits with functional plants and herbs, such as turmeric, maca, moringa, ginger and others.
We are also about being just with our farmers. The Company created a fund to benefit farmers and their families, who produce our raw materials. Just Made gives back 5¢ of every bottle sold to support teachers and schools in its source communities.

Manufacturing
We operate our own SQF facility in Houston, Texas and ship throughout the United States.  Contact us to learn more about our capabilities.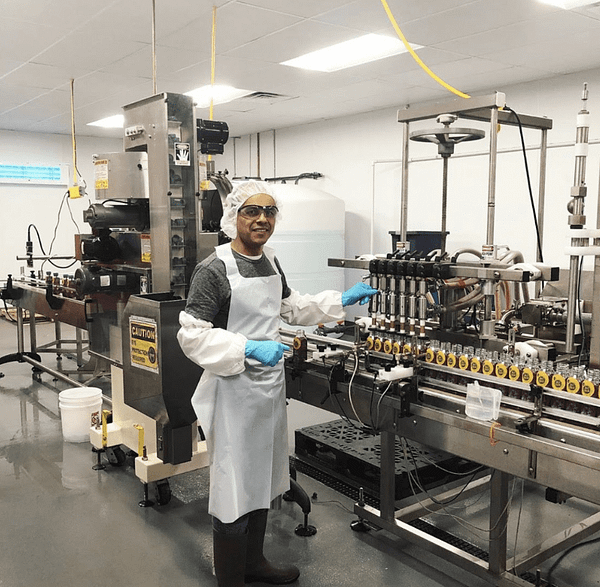 our valued distributor partners
just made. made justly.
"Growing up on a farm in middle America taught me about hard work and how global agricultural markets function. In the agricultural value chain, farmers typically receive the least amount for their produce. For every bottle sold, we donate 5¢ to support education in our farming communities. Just Made is about being just with our farmers, so that they too benefit from their hard work and willingness to take risks for our enjoyment."
– Walter Nimocks, Founder and CEO
increase sales!
Our personal relationships with our small farming communities allow us to bring to you tropical fruits and vegetables that are both delicious and high in vitamins and nutrients. All of our recipes are based on popular juices that are commonly blended together in Latin America and the Caribbean.
At Just Made, we believe in keeping our juices free of added sweeteners, preservatives and GMOs. Instead of heat pasteurization, we use high pressure processing to preserve each bottle's freshness, taste and nutrients. Our colorful bottles are eye-catching and each blend contains five ingredients or less. Let us share the secrets of the tropics with you for a great-tasting flavor adventure!
contact us for more info
855-456-5878 (JUST)
Spring, Texas 77393